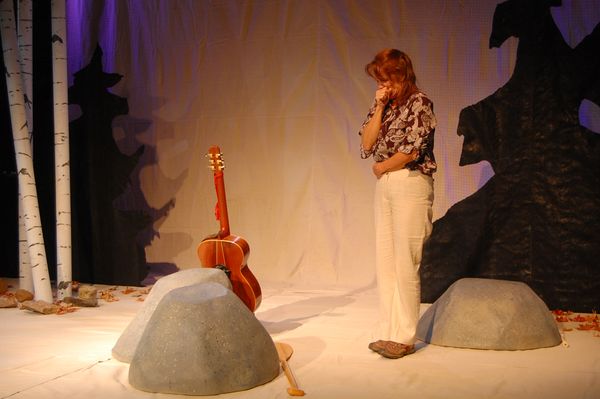 "WOW! An incredibly powerful play, lightened by music and laughter from the audience. Hauntingly beautiful voice and s
tory—filled with tragedy, painful memories, laughter and a reminder we all make choices to paddle on through the troubled waters and storms of life." ~ Jacquie T. 

"Be prepared  for a powerful, emotional wallop to the gut, to gasp, to nod in agreement and come to the edge of tears. Donna brilliantly and powerfully portrays her rough-around-the-edges father and her genteel and sophisticated mother, the other half of this fated-to-fail marriage. We meet the chain-smoking neighbour and mentor Mrs P., and Bailey the dog. You will be riveted. The songs are powerful. The singing and guitar playing a real treat. Northern Daughter is as real as drama gets." ~ Vincent C.

"STUNNING!!!! 
Northern Daug

hter's
haunting songs and stories share the raw nature of growing up in the wilds of the Canadian bush. Donna's splendid voice, and gift for bringing her characters to life through compelling narratives, completely draws the audience into the humor and heartache of this semi-autobiographical piece. While not for children, this is currently the best hour of theatre outside of Stratford and needs to be seen!" ~Jacquie B. K. 
"Wow. Go see 
Northern Daughter
—so good. I am completely blown away!" ~ Madison C.
"I saw the show tonight and was very moved. Everything comes together here, the writing, acting, set, music. And Donna is a wonder, changing characters in a heartbeat. Her Mrs. P. is a marvel, inhaling & exhaling from that invisible cigarette while dispensing wisdom. And those intense scenes with Mr. McAllister, and Bailey, were courageously written and acted. The writing throughout is superb; it felt like a novel with 95% of the text edited out, but nothing is missing. And the songs are perfectly suited and situated. Congratulations Donna and company. A powerful, honest, brave, deeply moving and entertaining experience." ~Roger F.
"
Northern Daughter
 brings to life both charming and chilling childhood memories and experiences in the bush of Northern Ontario. This show deserves to be seen by many! What a moving performance - a tour de force. Donna is a natural onstage - born to sing and entertain Congratulations!" ~ Diane G.C. 
"
Northern Daughter 
was spectacular. It needs to be on the big screen! I was in from start to finish!! WOW. WOW. WOW. Totally love the music and got the CDs too. I was humming all the way home!! Congrats. Truly an amazing Canadian show. Spectacular!" ~ Tara S.
"
Northern Daughter 
an absolute must see!!! Brilliant!" ~ Kim K. 
"I will take Mrs. P's wisdom on with me forever . . . 'We all have our own choices to make, and with whatever choice you make, there will also be a pile of shit you will inevitably have to deal with' - and just deal with it! I will always be proud to be a Mrs. P card carrying member—available to my daughters and their young friends, any woman, any young man—any PERSON who needs advice, help, support or just an ear, any time. And as she proudly drank her scotch from a tea cup, I proudly drink my beer from a wine glass and smoke way too many cigarettes!" ~ Rebekah M. W.
"The performance was great. Choices. That is what life is all about. The set was perfect." ~ George S.
"It was brilliant to see how Donna Creighton crafted those ideas into a well delivered, and at some times gut wrenching, stream of conscience. Along with well timed comedic relief, the overall presentation was a gem to witness. Bravo Donna!" ~ Richard M.
"Just got in the door after a lovely night out, which started with this amazing, powerful and powerfully delivered production. 
Northern Daughter
 is emotional, evocative and thoroughly entertaining. Bravo Donna Creighton and Louise Fagan." ~ Vinnie C.
"Amazing talent!" ~ Teresa R.
"Wow. What a tremendous performance, amazing play, music, and theatrical design. Each character voice was so distinct. You have a talent for drama and a future with one woman shows!" ~ Susan C. 
"Donna, you wove an intricate northern tapestry and the jewels were your songs. Bravo." ~ Catherine G. L. 
"I went opening night . . . enthralling. Take this one in! Donna-doll does a job." ~ Gerald F.
"Northern Daughter, with Donna Creighton, was a Tour De Force!!!! Can't wait to see where it goes! A little slice of Canadiana and a story that has needed to be told for a long time." ~ Wendy L.
"Bravo Donna!" ~ Mark Z.