Innocence And Experience: A Review of Northern Daughter
By Amie Ronald-Morgan 
I've been a city dweller all of my life so I'm inclined to idealize what it might be like to come of age outside an urban setting - somewhere like the wilds of Northern Ontario. 
Just imagine: Climbing the majestic craggy rocks and paddling the crystal clear waters; waking up to the haunting call of the loon and falling asleep under a comforting blanket of stars. Growing up tall and strong alongside the trees. 
There is a certain magic up north in the Canadian bush, to be sure. But then there are the ice-cold outhouse seats, the bears, the volatility of nature, and having to deal with people who have lived in isolation for so long that they've lost touch with their humanity. 
Northern Daughter serves up a good shot of reality of life in the sticks while retaining just enough romanticism to make us proud to be Canadian. This well-scripted, strongly executed play-with-music (as opposed to a musical) recently debuted at The Arts Project in London. 
Written by Donna Creighton and Louise Fagan, the show centers on Josephine, a woman who has returned to her childhood home after many years to attend to a personal matter. Creighton plays Josephine as well as the four other characters who played pivotal roles in her life. The seeds of these stories can be traced back to Creighton's own roots growing up in the Ottawa Valley, but are largely fictional. 
With abundant humour, Josephine recounts anecdotes involving these individuals and the lessons they imparted to her. These moments in time are punctuated with lively, catchy original songs by Creighton, who sings and plays guitar throughout. 
Some memories are not so funny. Such is life, and Creighton does not shy away from loss and violation - the moment when innocence comes to an abrupt halt. Her earnest performance brought the audience to the edge of seats more than once. There are several points in the play where a less confident actor could have hidden behind the narrative. But she went for it each time and managed to steer clear of melodramatics. Creighton's turn in Northern Daughter is the definition of fearless. 
We never pity Josephine, however; she grabs onto her strength like she did when she was a kid learning to swim with but a simple rope and wood contraption made by her father. She is bolstered by her neighbour Mrs. Peterson, a forthright divorcee with whom periodical visits Josephine comes to look forward to. To an extent they have both worked through their hardships in song. Art is a great form of therapy. The hard-boiled and well-read Mrs. Peterson got the most belly laughs from the audience. 
Creighton is a fabulous live musician; able to captivate an audience with just an acoustic guitar and her voice. She's clearly quite at home onstage with her instrument. But her acting chops are just as strong as her musical talent. When she rows using an oar and a simple rock to sit upon, we can feel it in our bones. When she cries, we feel her despair and connect back to our own moments of grief and heartache. When she closes the show, we don't want it to end. 
For a one-hander to succeed so well in exploring relationships - with others as well as with nature - is a triumph. I still have the titular song in my head!
Theatre in London | Review
By Kenneth Chisholm, October 23, 2014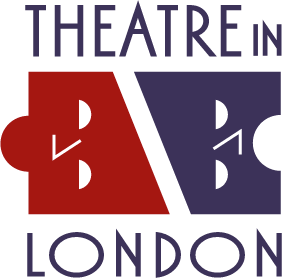 A person's roots can define everything they are in ways they least expect. This play is a gorgeous one-person show where Donna Creighton illustrates that truth with evocative stories and songs about life in Northern Ontario.
For a one-person show, this is among the most immersive I have ever experienced, with Creighton providing a wealth of characters on a beautiful canvas of the mind. Using a semi-autobiographical approach, Creighton uses those creations to create a powerful story rife with joys and sorrows that pulls you into the northern bush, avoiding cliche while tapping into a deeper truth. Whether it's the romanticism of canoeing with as much casual confidence and practicality as biking in the city, or dealing with the neighbours at their best or worse, Creighton and Fagan create a whole world of rustic beauties and shadows alike. 
To that end, Creighton brings the story to life with masterful acting, whether it is the worldly wise and secretly sonorous Mrs. Peterson, the central character's weary father, or the foul drunken menace of Mr. McAllister. Creighton slips between the roles with masterful protean skill that only requires a change in stance and voice to create. 
That thespian talent is matched only by her singing, which reminds me of the graceful wisdom of 
Joan Baez
; it draws me into her world like an enthralling siren of the North, truly promising peace and clarity with each note. Her spot-on parodies of the old 
Hinterland Who's Who
 spots says much for her fused musical and comedic talent even as our memories are invited back to those quiet classics of Canadian TV. 
Finally, the set is graceful perfection that needs only a few white aspen trees, rocks, and an almost ethereal misty glow to provide ambiance to the land. The whole feel is of a world shrouded by childhood memories, good and bad, that the narrator is ready to grow out of, but still remember forever. The total effect is a one-woman show that will pull you into her memories and imagination more thoroughly than any VR tech will be able to do for years. 
Life for most people in Canada has been described in jest as being arranged as like a kind of weather stripping for the US border. This show is a welcome look at the real country that is equally a part of us.
The Londoner | Entertainment
Local Play Northern Daughter Makes Debut at The ARTS Project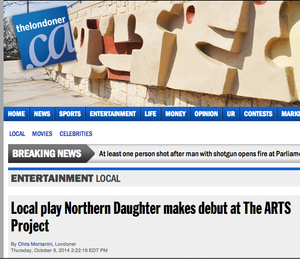 By 
Chris Montanini
,
Thursday, October 9, 2014
A brand new local play co-written by London musician Donna Creighton and London native Louise Fagan will bring audiences from the city back to the untamed Canadian wilderness when it opens at The ARTS Project October 22.
The play — Northern Daughter — is about a mourning girl who reluctantly returns to the lake of her childhood after years of living in the city. Floating in a canoe in the middle of the lake, she recalls characters from the past and reminisces about the pivotal moments of her life, taking the audience along for the journey. Based on a song Creighton wrote in 2006, part of the play's development stems from Creighton's own childhood in the rural north and more recently, her studies in Canadian theatre. 
"I wanted to write something bigger than a song and because I have a degree in English and drama and I studied Canadian theatre ad nauseam in university … I had access to some of the Canadian theatre greats," she said. "They were all my teachers." 
But a serious car accident in 2008 forced Creighton to put her creative endeavors at the time on hold. Over five years later, she recently returned to the stage, first in concert, then in a show called Colleening (about the late London poet Colleen Thibaudeau) by Adam Corrigan Holowitz. 
Last year, Creighton teamed up with Fagan in Penn Kemp's The Dream Life of Teresa Harris and then decided she was finally ready to tackle her own play, which Holowitz is also producing. 
"My entire recovery process was geared towards having my career back," Creighton said. "All of my physiotherapy I directed towards what it was I wanted to do at the end of it. I needed to be able to read again. I needed to be able to stand up straight. I needed to be able to play the guitar. I took all of the physiotherapies and I directed them towards my instrument, my physical balance." 
With a working relationship that goes back 20 years, Fagan, a producer and director now based out of South Carolina, was Creighton's natural choice for a writing partner. The pair has been working on the script for about 10 months. 
"It speaks to something that is familiar to every Canadian," Fagan said. "Every Canadian knows what the bush is. Even when I was living in London … I would say, 'all of London is at our front door and all of Ontario is at our back door.' And I think we still, in such a vast country (with) a small population, we are all still very connected. 
"The other part of it is the idea of somebody having to revisit their past, which we all do. These things that have shaped us, good or bad, and examining them so we can take our next steps forward in our lives." 
In the one-hander, Creighton will also play the lead and four other characters. Northern Daughter is her first play and she's also contributing a soundtrack to the show. A new album recorded in London also titled Northern Daughter, will be available at The ARTS Project and includes five songs used in the play — a drama with music. 
Chris.montanini@sunmedia.ca | Twitter: @LondonerChris 
IF YOU GO:
What: Northern Daughter, co-written by Donna Creighton and Louise Fagan.
When: October 22-25
Where: The ARTS Project
Tickets and more info: www.artsproject.ca
Scene Magazine | Arts Feature
Northern Daughter Comes of Age
By Amie Ronald-Morgan
Director Louise Fagan has been onboard since the start, advising from the earliest public readings of the play to joining in as co-writer in the final stages of script development.  
"Louise has been incredible. I have fantastic people in my corner; it has been one of the most justifying experiences I've ever had for doing what I do," Creighton remarked. 
A long-time musician, including 12 years with the London-based folk group Sirens, Creighton has only recently returned to the theatre stage since her university days at Western. A series of performances bolstered Creighton to put the finishing touches on Northern Daughter, including her first-ever solo concert, Donna Back from the Dead, at Aeolian Hall in late 2012. 
"That was my first time alone after having played in bands and ensembles forever, and I did all the music from the show. After that I did (the AlvegoRoot play) Colleening, based on the poetry of Colleen Thibaudeau; then I played Teresa Harris in the (Pendas Productions) The Dream Life of Teresa Harris at Eldon House; that was my first role where I played five people. I came off of that project and said okay Louise, I'm ready! Let's finish it. I now know that I can do it," Creighton said. 
The fruits of her labours, and those of her creative team throughout the years, come to bear with the world premiere on October 22, 8pm. An EP with music from the play will be available for purchase at the venue. 
Poignant and funny, and punctuated with great music including the catchy, folksy titular song, Northern Daughter promises to be one canoe ride you won't soon forget. 
AlvegoRoot Productions presents Northern Daughter at The Arts Project (203 Dundas Street), October 22 – 25, 8pm & Oct 25, 2pm matinee. | Seating is limited. Call 519-642-2767 or order online.