NORTHERN DAUGHTER
One Canoe. Five characters. One Performer. World Premiere.
---
"Josephine is gritty and exposed. Someone important has died, and she's on a reluctant journey home. Just as the forces of nature are indiscriminate, Josephine has to make good on a promise she's made. She knows that if you don't respect the forces of nature, they can kill you. She knows she has to keep her word. But in the middle of the lake, she learns something unexpected about the forces of living. The audience steps into the canoe and makes this journey with her." ~
 Donna Creighton
---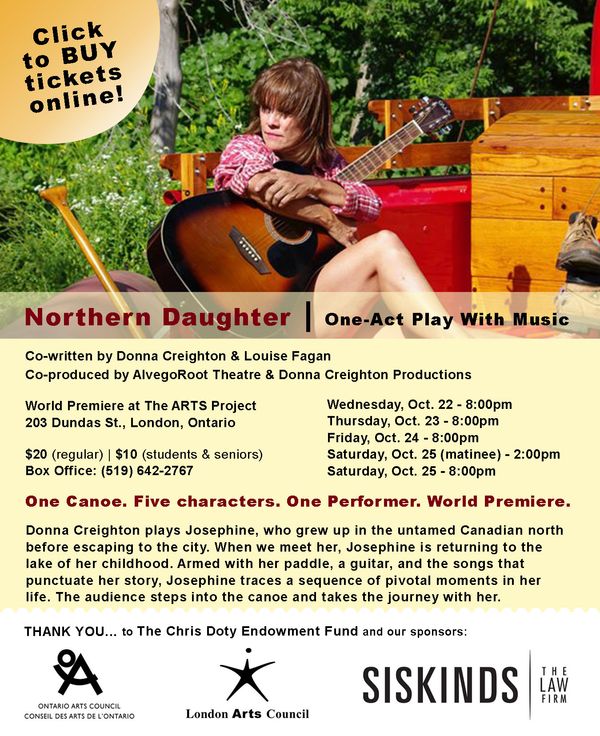 NORTHERN DAUGHTER
is a one-act play with music co-written by Donna Creighton and Louise Fagan, performed by Donna Creighton and directed by Louise Fagan.  
This is the story of Josephine, a girl who grew up in the untamed Canadian north before escaping to the city. The story is set in a canoe.
When we meet Josephine, she is returning to the lake of her childhood, armed with her paddle, a guitar, and the songs that punctuate her story. She recalls the colourful characters from her past and traces a sequence of pivotal moments in her life. Like the wilderness around her, Josephine is hardy and honest, at times poignant, then funny—quintessentially Canadian. 
THE TEAM
Award-winning singer-songwriter
Donna Creighton
plays Josephine and the four colourful supporting characters.
The production team is lead by Artistic Director
Louise Fagan
with set design by
Eric Bunnell
, costume design by
Julie McGill
, lighting design by
Karen Crichton
, sound design by
Andrew Mawdsley
and stage management by
Krisanne Nunes
.
Co-produced by 
AlvegoRoot Theatre Company 
and 
Donna Creighton Productions
, this show will round out
AlevgoRoot's
 2014 season with a world premiere at 
The ARTS Project 
theatre, London, ON. AlvegoRoot is an independent theatre company based in London, Ontario, that produces local plays about Southwestern Ontario, along with classical repertoire.
This production has been made possible with support and sponsorship from
The Chris Doty Endowment Fund, The London Arts Council, The Ontario Arts Council,
 and 
SISKINDS | THE LAW FIRM
. 
When:
Wednesday, Oct. 22 - 8:00pmThursday, Oct. 23 - 8:00pm
Friday, Oct. 24 - 8:00pm
Saturday, Oct. 25 (matinee) - 2:00pm 
Saturday, Oct. 25 - 8:00pm
Where
:
The ARTS Project
theatre, 203 Dundas St., London, ON (seating capacity 80)
Tickets
: $20 (adults), $10 (seniors and students with ID)
Available at the ARTS Project Box Office: (519) 642-2767 and
online
.
NOTE: This 
show contains mature subject matter that is not suitable for children.