Northern Daughter
 is a one act, one woman play with music, written and performed by Donna Creighton in collaboration with Artistic Director and Dramaturge Louise Fagan. This co-production with AlvegoRoot Theatre Company is 
and
 premieres
 October 22 to 25, 2014, at The ARTS Project in London, ON. 
Northern Daughter
 is the contemporary story of a girl, Josephine, who grew up in the deep woods of Canada. Josephine is standing at the shore, one paddle away from her past. This is quintessentially Canadian theatre with its untamed setting, heart-tugging themes, and zany humour! 
---
In the fall of 2005, I embarked on something new. The Northern Daughter project began as a song that I wrote and recorded as a demo. It was an auto-bio-fictional account of my own life as a northern daughter. In the fall of 2006, when the idea for a one-act musical play emerged, I contacted actress Lesley Andrew to develop a storyline based on the life of a young girl in the Canadian bush. In those early stages, Lesley provided me with weekly writing tutorials and feedback to draft preliminary wilderness narratives for the play. 
Over the winters of 2006 and 2007, I performed public and private readings from 
Northern Daughter
. In spring 2007, I compiled a collection of the best excerpts and work-shopped the play for three days with artistic director, Louise Fagan. I finally completed my first draft of 
Northern Daughter
 at the "Developing the One Person Show" weekend workshop with Louise Fagan and Molly Peacock in Manhattan. 
In June 2009, I traveled to Vada, Italy, for two
 intensive 
weeks of playwrighting. There, I 
focused on character development
. The workshop was facilitated byCanadian playwright, and Governor General's Award winner, Vern Thiessen.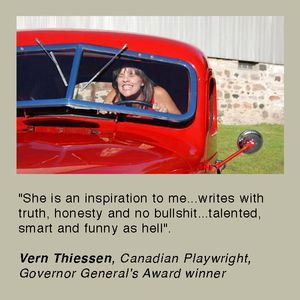 In April 2010, I travelled to Kitchener and met Lisa O'Connell at Pat the Dog -- a playwrighting development centre. After a series of dramaturge sessions with Lisa O'Connell, I presented excerpts from the play. First, at the Magnetic North Theatre Festival in Kitchener (June 2010), then for 
Thin Air
 at 
the Winnipeg International Writer's Festival (Sept. 2010), and finally at the Winnipeg Fem Fest -- a Festival of Canadian Women Writers and Arts Creators (Sept. 2010). 

In 2011 and 2012, I brought Northern Daughter to writing workshops at Brescia College, UWO. Then, in 2012 and 2013, I wrote a total of seven songs for the play, recorded three of them, and performed all of them live at Aeolian Hall in my show, Donna Back From the Dead. That was November 2013. In the months leading up to the Northern Daughter premiere in October 2014, I have been in the final stages of script development and collaboration with dramaturge and director Louise Fagan.